Short film. Hayley - 90 seconds about fear.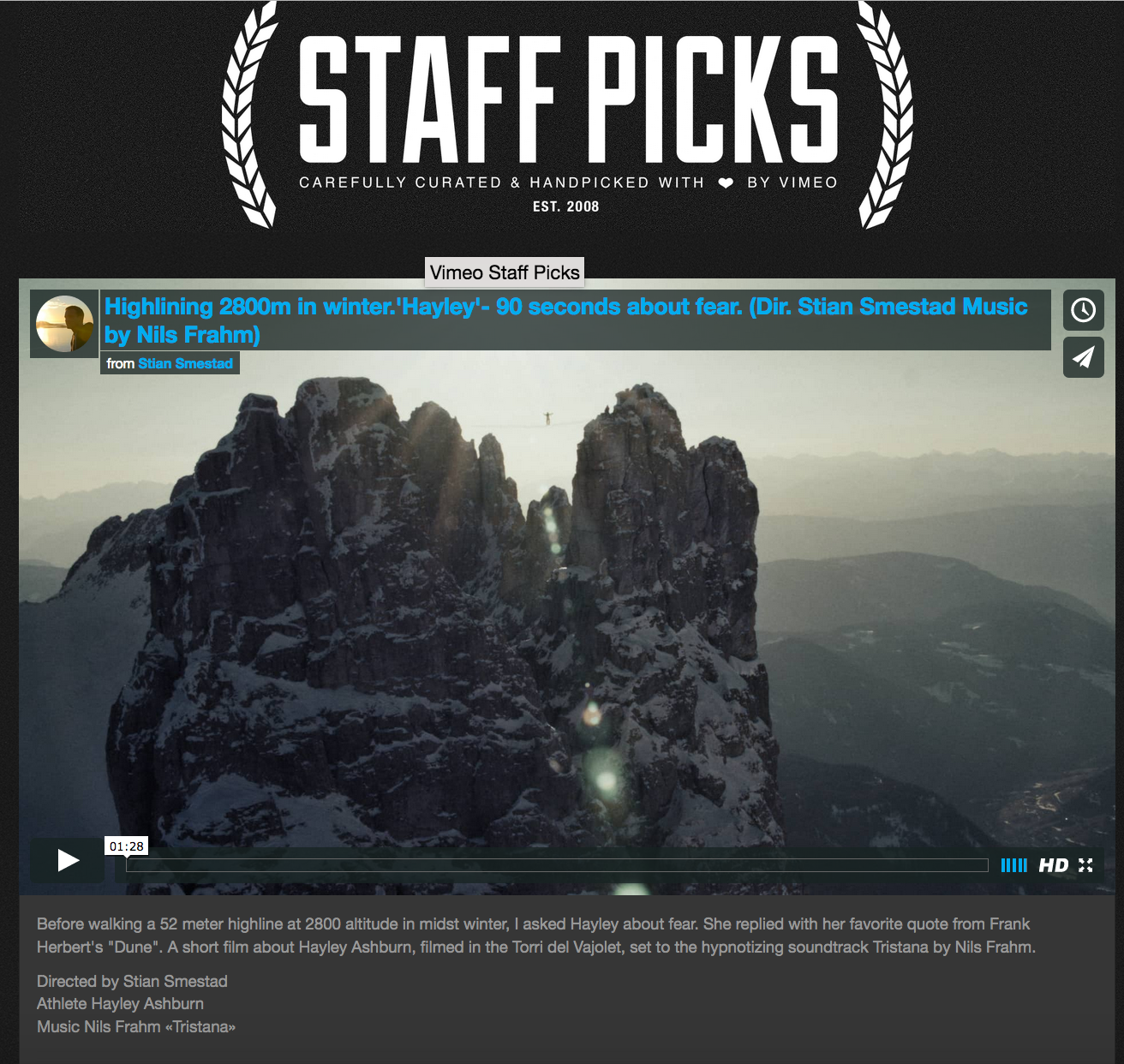 Update : 'Hayley' was Staff picked and has 180K views on Vimeo and 160K views on Fubiz. It has been shown on various TV outlets and featured o
n uncountable blogs. The film is now doing a festival round starting at the Telluride Mountain film festival, Mountain film tour, Women's Adventure Film Tour among others.

Thanks to everyone who shared this film and the involved in making it!

____

Before walking a 52 meter highline at 2800 altitude in midst winter, I asked Hayley about fear. She replied with her favorite quote.
A short film about Hayley Ashburn, filmed in the Torri del Vajolet, set to the hypnotizing soundtrack Tristana by Nils Frahm.
Directed by Stian Smestad
Athlete Hayley Ashburn
Music Nils Frahm «Tristana»
Produced by
Pinc Solutions
Stopp
Timeline Productions
Adidas Outdoor
Dop Jo Eken Torp
Camera operators Max Reichel Franz Hinterbrander
Cineflex Irmin Kerck
Sound recording Roland Winkler
Sound design Andy Carroll
Grade & Opening title The Mill NYC
End titles Eirik Fjerdingstad
Edit and interview by Stian Smestad
Special thanks
Edward Grann, Nils Frahm, Christina Voellinger, Roland Symons Manners McDade Artist Management, Erased Tapes Music, The Mill NYC, Scott Rogers, Jill Kuz, Michael Meisl, Anna Adamson, Sarah Grey Andreas «The Hoff» Keller.